Silk Escape Map Hankie

GCR817

Moderator




Posts

: 275


Join date

: 2009-11-25


Location

: Edmonton, AB


qsamike

Member




Posts

: 464


Join date

: 2009-11-28


Location

: Calgary, Alberta, Canada

Good Afternoon Geoff.....

I have had several of the real silk escape maps and they are very very detailed, this I think is a tourist gift type item..... With the countries shown on it, Austria-Hungary, Serbia etc. makes me think that this may even be pre- World War One.....

If it is pre-WW1 even though it is not an escape map it is still quite exciting.....

Mike

GCR817

Moderator




Posts

: 275


Join date

: 2009-11-25


Location

: Edmonton, AB

Hi Mike,

You may very well be right. I never really thought of the tourist business, but did wonder about the Austria-Hungarian Empire on the map.

I've got some silk RAF maps and they are very detailed (as you say).

Anyhow, it was cheap and will look good in the personal kit display.

Cheers,

Geoff

Battalion Colours

Moderator




Posts

: 846


Join date

: 2009-11-26


Battalion Colours

Moderator




Posts

: 846


Join date

: 2009-11-26

Besides being issued to Air Crew, Special Operations (i.e. OSS and SOE), Paratroopers and Invasion troops; silk escape maps were also smuggled into POW Camps inside MONOPOLY games. Here's another interesting article on escape maps:
http://abcnews.go.com/Technology/monopolys-hidden-maps-wwii-pows-escape/story?id=8605905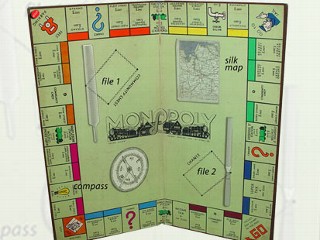 A red dot on the free parking space signified to captured soldiers that the Monopoly boards delivered by humanitarian groups contained escape kits including a compass, small metal tools and a map.
(Courtesy Philip Orbanes)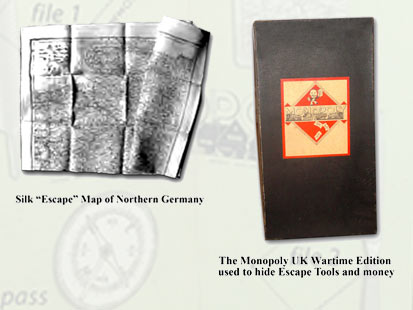 Seaforth Highlander

Member




Posts

: 58


Join date

: 2012-01-16


Location

: Richmond, BC, Canada

I agree that it is not an MI-9 escape map, but rather a souvenir item from an earlier period, judging by the countries' names.
In WWII MI-9 had a problem keeping the ink from running when it printed on the silk. The solution was pectin as used with fruit preserving. They were able to print very detailed maps, some black and white and some in colour.
About 1987 I used one when travelling in West Germany. I lost it on a train. I chuckle when I think that an old cleaning lady might have found it and said to herself : "Ach du lieber, I must report zis to the Gestapo!"
I have several original MI-9 silk escape maps in my colleciton and interestingly I have one of Italy that was issued to my step-Grandmother Major Nora Ely RCAMC in 1943.
Colin Stevens