FS knife, canadian serivce no

Jonhno

Member




Posts

: 543


Join date

: 2012-12-20


Age

: 42


Location

: Toronto


Jonhno

Member




Posts

: 543


Join date

: 2012-12-20


Age

: 42


Location

: Toronto

had sent off for more information regarding the owner of this knife and the paperwork arrived today, first off I was mistaken by the last name, his name was Louis Pryce, his Rank final rank was W/O and role WAG, he flew Mitchell's with 226 Squadron on 50 sorties clocking up 113 hours flying time.

In September 1944 he moved with the Squadron to France

Also included in the document set, which was a surprise, is a picture of Louis, (which I will scan and add)

I have to do some more digging now I have the extra information

Jonhno

Member




Posts

: 543


Join date

: 2012-12-20


Age

: 42


Location

: Toronto


Infanteer

Member




Posts

: 820


Join date

: 2009-12-11

The photos are a really nice addition to the information. He sure looks young.

pylon1357

Global Moderator




Posts

: 1319


Join date

: 2009-11-24


Location

: Resting on my laurels in Ottawa

Funny as I never saw this post until now. I agree with Steve. The photos of the man adds so much more to the FS knife.

I have always liked these items where the owner has inscribed his details. It adds so much more to the items. Lucky for you he RCAF, from my understanding there is a photograph of each airman in the their service records, where as Army there is not.

_________________
Cliff

http://www.irishregimentofcanada.ca

Jonhno

Member




Posts

: 543


Join date

: 2012-12-20


Age

: 42


Location

: Toronto

Yes, I was very surprised to see a photo, Lou was 22 when he enlisted in Toronto, he originally was born in the UK, then his family moved to Wynnewood,PA in the USA,

I was reading the story of another man in the same SQD and Position WAG (Wireless Operator/Air Gunner) as Lou, this really brought to life what he must have experienced and also they must have known each other, sadly this chap did not make it

http://www.castlearchdale.net/id44.html
Last edited by Jonhno on Fri Jan 23, 2015 9:42 am; edited 1 time in total

LSR

Member




Posts

: 153


Join date

: 2010-11-19


Location

: Twente- The Netherlands

Thats a very nice item to have.

Jonhno

Member




Posts

: 543


Join date

: 2012-12-20


Age

: 42


Location

: Toronto

had some time to look through information from the UK national archives, looking particularly at the RAF "Record of Events" and have been able to follow Lou's missions from August 15th 44 until the end of December when he completed his tour.  

226 Squadron was used during this period for Ramrod Operations (Ramrod – short range bomber attacks to destroy ground targets)

Lou's crew from what I have found out so far, had one crash landing (on take-off) and also their Mitchell was damaged in the same bombing mission as the chap who sadly lost his life in the link I posted above.

During August Lou's crew was involved in bombing areas around the mouth of the Falaise Pocket, Troop, Transport and Tank concentrations, other missions later in the month included dropping flares on areas around/bridges across the Seine at Rouen for follow up Mosquito attacks.  So 226 were on the heels of the retreating Germans

September continued with raids on Abbeville (troop concentration), rail centre at Givet, strongpoint at Boulogne (bombed numerous times this month), ferry at Breskens, Holland
also on the 17th they bombed Ede (Holland) in support of the "airborne invasion" which would be Market Garden. On the 25th they bombed mortar and gun positions near Arnhem itself.

Lou flew in different B25's on every mission,  the biggest loss and damage was caused by Flak, there are some mentions of fighters but not directly in contact with any 226 Mitchells
Last edited by Jonhno on Fri Jan 02, 2015 7:37 pm; edited 1 time in total

Jonhno

Member




Posts

: 543


Join date

: 2012-12-20


Age

: 42


Location

: Toronto


quaren'tro

New Member




Posts

: 9


Join date

: 2018-12-10


Location

: France Pas de Calais

Hello everyone, especially Jonhno.
I joined this forum a short time ago and I discover your post to day.
It so happens that I live very close to Vitry in Artois.
I was surprised to see that W/AG Louis Pryce stayed there.
This aerodrome still exists, it also hosted the 342th Sqadron bombardment "French Free" equipped with Douglas Boston.
Below are the memorials.
Have a nice day in Canada.
Quaren'tro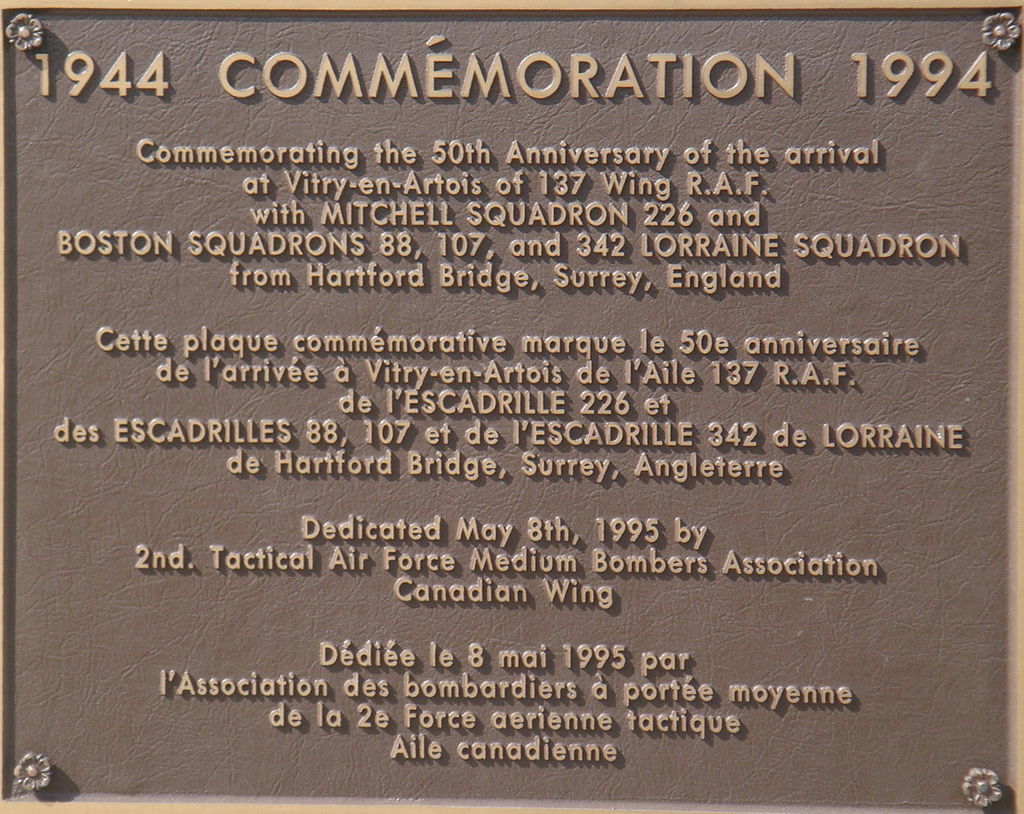 Tankermike

Member




Posts

: 492


Join date

: 2010-02-11


Age

: 53


Location

: Edmonton

Interesting history, but why would a RCAF AG be issued a FS knife? Wouldn't these knives be only issued to Para, Commando units?

Mike

Infanteer

Member




Posts

: 820


Join date

: 2009-12-11

Not necessarily issued... these knives were popular and available for private purchase which is likely the case here. I can't say for certain that all Canadian issued knives were marked with a C broad arrow but at least some were. I have in my collection a second pattern knife marked on the blade with a C broad arrow. These knives were definitely used by more than airborne and commandos.