Even though Colonel Millett was not a Canadian, I thought he deserved mention on this forum. He is the only Medal of Honor Recipient to be court-martialed for desertion from the US Army in order to join the Canadian Army. Even though I knew Lew, I will let the following serve as his memorial.
Courtesy of www.sunjournal.com:
Medal of Honor recipient remembered as a man who loved his country
By Andie Hannon, Staff Writer
Published: Nov 17, 2009 12:00 am
Local family members of Col. Lewis Millett remember the former Mechanic Falls man as someone who proudly served his country even long after his retirement from the military.
"He was a very proud man and very proud of his country," said Alice Pepin, 75, Millett's younger sister who lives in Turner. "He felt very strongly about defending his country. He was very involved, especially with the young people involved in the army."
Millett, 88, of Idyllwild, Calif., formerly of Maine, died Saturday morning at Jerry L. Pettis Memorial Veterans Administration Medical Center in Loma Linda, Calif., following a series of health problems in the last five years, according to an article that ran Saturday in The Press Enterprise, a Riverside, Calif.-based newspaper. He was born in Mechanic Falls on Dec. 15, 1920.
Millett received the nation's highest military award — the Medal of Honor — in 1951 for leading a bayonet charge during the Korean War. According to a profile piece on dailynightly.msnbc.msn.com, Millett earned the honor for his heroic actions during the Korean War. After learning that Chinese Communist soldiers were distributing propaganda that American soldiers feared the bayonet, he rigorously trained his troops in hand-to-hand combat using the weapon.
A few weeks later, his men found themselves outnumbered by Chinese Communist soldiers near the Korean village of Soam-ni. With his troops already running low on manpower and facing a shortage of ammunition, Millett ordered his men to fix bayonets and then personally led the uphill charge against the Communists — reaching the enemy trench line and killing two enemy soldiers.
His was the last bayonet charge in U.S. military history, and stymied the Chinese soldier's relentless effort to capture his troops.
"His men idolized him," Pepin said of the big brother who used to carry her around department stores on his shoulders. "He always told you exactly how he felt. He didn't mince words."
Cindy Larrabbee, 65, of Mechanic Falls, said Millett traveled with Hollywood stars on several U.S.O. tours following his retirement from the military. She said the former military standout didn't perform on the tours, but rather spent time talking with and encouraging the next generation of young soldiers.
Larrabbee is married to Millett's nephew, Douglas, and said she always admired "Uncle Lewis" for his patriotism and love of history. She said his California home was filled with artifacts, collectibles and pictures from around the globe.
"You talk about a picture being worth a 1,000 words, well there must have been 15 million words in that house," Larrabee said.
But Millett's rise to glory was almost cut short in the early 1940s after he was court-martialed and found guilty of desertion. According to the dailynightly.msnbc.com profile of the former foreign war hero, Millett was so impassioned to fight against Hitler's Nazi forces that he deserted the United States in 1940, fled to Canada and enlisted with the Canadian Army when it appeared that the nation was going to remain neutral.
By the time American troops began arriving in England in 1942 shortly after the Japanese attack on Pearl Harbor, Millett transferred to the U.S. military. He earned the Silver Star for his service in North Africa before going on to fight in Salerno and Anzio. Around the same time he was received a battlefield promotion to lieutenant for his combat fearlessness, Millett learned he also owed Uncle Sam a $52 fine — his sentence for being found guilty of desertion.
He was the only colonel in American history found guilty of desertion at the time of his retirement in 1973.
Following his stint with the Army during World War II and prior to his fighting in Korea and earning the Medal of Honor, Millett returned to Maine, joined the state's National Guard and attended Bates College.
He and his wife, Winona, who died in 1993, are survived by two sons and a daughter. A fourth son, Sgt. John Millett, died in the tragic December 1985 plane crash off Newfoundland that claimed the lives of 256 people — 248 of which were soldiers returning home from the Middle East on Christmas leave.
"It's a great honor to have a gentlemen who could serve his country in such a way," said Gary Purrington, a Mechanic Falls resident who served six years in the U.S. military and had the occasion to meet Millett. "He was very dedicated to the people he met and shared a lot of Americanism with them."
Captain Millett in Korea.
Captain Millett at the White House receiving the MOH from President Truman.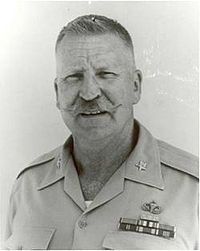 Colonel Millett served in WW II, Korea and Vietnam.