http://www.bbc.co.uk/news/uk-england-wiltshire-13742117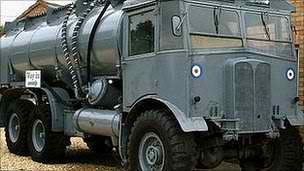 The tanker has been parked outside the museum in Calne for the past 20 years.
A petrol tanker used by the famous 617 Dam Buster squadron in World war II has sold for £17,500 at auction.
It is believed the AEC bowser, which has been on show at a Wiltshire museum for 20 years, will be used in a remake of the Dam Busters film.
Auctioneer Richard Edmonds said the two people bidding for it wanted it for its "role in history".
Built in 1943, it was sent to the 617 Squadron at RAF Scampton where it served with Bomber Command until 1949.
The machine, housed at the Atwell-Wilson Motor Museum in Calne, had been expected to fetch up to £15,000.
Mr Edmonds said: "I think the lorry itself is probably only worth about £2,000 - but that history was immeasurable really.
"I think the two people who really wanted it were buying that. They wanted that bit of history that they probably can't buy again."