http://www.calgarysun.com/2011/10/29/memorial-drive-crosses-a-reminder-of-albertas-heroes
Memorial Drive Crosses A Reminder Of Alberta's Heroes
BY DAVE DORMER ,CALGARY SUN
FIRST POSTED: SATURDAY, OCTOBER 29, 2011 04:56 PM MDT | UPDATED: SATURDAY, OCTOBER 29, 2011 05:10 PM MDT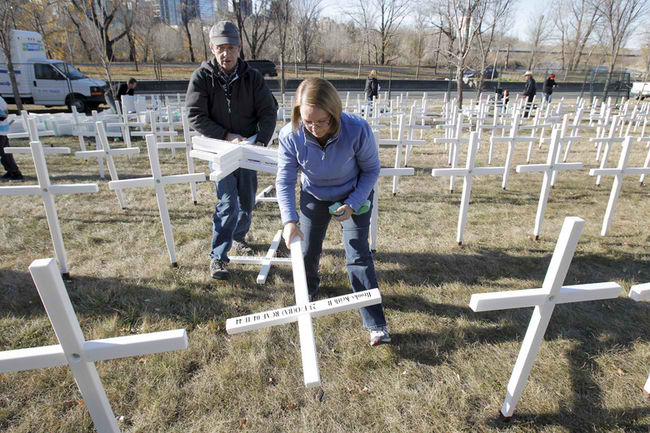 Volunteer Jan Helm sets crosses into place alongside Memorial Drive in Calgary on October 29, 2011. This year, volunteers will set up 2,700 crosses, each bearing the name of an Albertan soldier killed while serving. (LYLE ASPINALL/CALGARY SUN)
Dozens of volunteers toiled with the sombre task of erecting 2,700 white crosses along Memorial Dr. Saturday, a growing tribute to represent Albertan soldiers who have fallen since the Boer War.
The work endured just as details emerged of yet another Canadian solder killed in Afghanistan.
Master Cpl. Byron Greff from the 3rd Battalion Princess Patricia's Canadian Light Infantry was one of 17 killed when a Taliban suicide bomber rammed an explosives-laden vehicle into an armoured bus carrying NATO soldiers.
Most of the volunteers working on the Memorial Drive project are veterans themselves, including Dave Leitch who served in the Canadian air force.
"It's too bad ... but the purpose of this is to focus on the willingness of these young people to stand up and take on the terrible job they had to do and do it so very, very well," he said.
"When we started off three years ago there was something like 600 ... last year was 1,600 and this year we're at 2,700."
The number is expected to double as organizers carry on with their task of confirming the number of Alberta's war dead.
"There's an assumption it's somewhere around 6,000," said Leitch.
"It's a huge effort."
Once the crosses are up on the north side of Memorial Dr. near the Calgary Curling Club, a flag ceremony will be held at sunrise and sunset each day during Remembrance week.
Among the rows, Leitch came across the names of soldiers he knew personally.
"It's just terrible," he said.
"That's the best way to describe it, when you see a name you know, it's tough."
The crosses will remain standing until the weekend after Remembrance Day.
dave.dormer@sunmedia.ca
On Twitter: @SunDaveDormer