WW I Rum Rations

Battalion Colours

Moderator




Posts

: 846


Join date

: 2009-11-26


Bill

Moderator




Posts

: 1019


Join date

: 2009-11-28

Well Adam, I can see owning the jug, but the contents.....

Battalion Colours

Moderator




Posts

: 846


Join date

: 2009-11-26

It's not as crazy as it sounds Bill.
Rations have always been an important part of a soldier's life. I think we have all read tales of the infamous 'Bully Beef'.
Field rations are very collectible and some command high prices. I own original WW I ration crates and original WW I ration tins with contents. Now I'm searching for a S.R.D. jar with contents (preferably rum).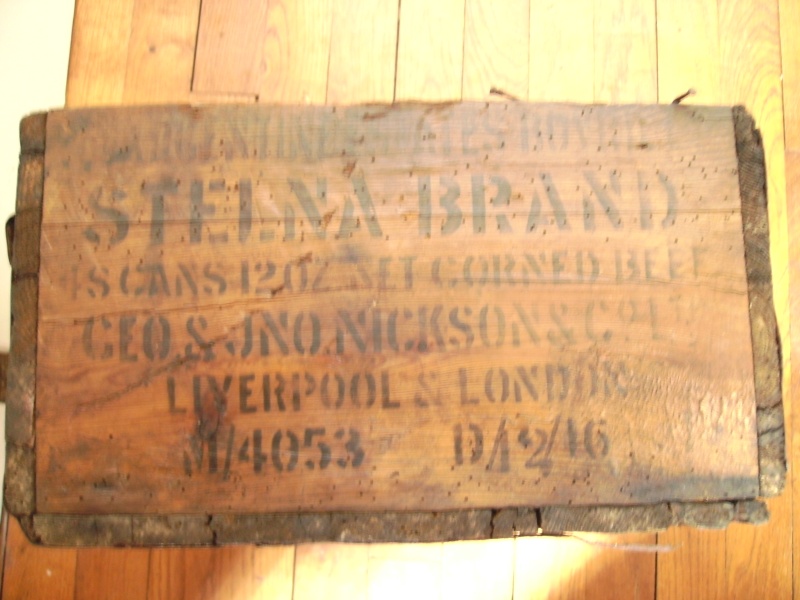 Battalion Colours

Moderator




Posts

: 846


Join date

: 2009-11-26

http://blogs.kcrw.com/goodfood/2010/09/when-duty-calls-whats-for-lunch/
When Duty Calls…What's For Lunch?
British soldiers in WWI prepare bully beef (tin corned beef) for lunch.
In last week's New York Times, journalist Ashley Gilbertson paints a picture of mealtime for soldiers in Afghanistan. While on the front lines, soldiers are given meals that are not only meant to nourish, but also meant to remind them of home. Australians receive Vegemite, South Koreans eat Kimchi and Rice and Brits nosh on Lamb Curry. Unsurprisingly, French rations are the highest commodity – a mere portion of cassoulet or pâté is often traded for up to 5 entire American Meals Ready to Eat – more commonly called MREs.
For a sneak peak into the culinary lives of soldiers, check out this Interactive Graphic detailing what exactly is in each country's foil wrapped pouches when it comes time for lunch. For a link to the full article, click here.

Battalion Colours

Moderator




Posts

: 846


Join date

: 2009-11-26

http://www.nytimes.com/2010/09/05/weekinreview/05gilbertson.html
A Taste of Home in Foil Packets and Powder
By ASHLEY GILBERTSON
Published: September 4, 2010
EARLY in the war in Afghanistan, among the international troops who mingle at Bagram Air Base, a single French combat ration (cassoulet, perhaps, with deer pâté and nougat) could be traded for at least five American Meals Ready to Eat, better known as M.R.E.'s.
Recently though, the barter values have changed.
A fellow journalist who just got back from an embed with the French told me that today they look forward to visiting the Americans for a meal. American rations — hamburgers, chili, peanut butter, candy — they say, are "fun."
Each year, among the countries with troops in Afghanistan — the current number is 47 — tens of millions of dollars are spent researching how to fit the most calories, nutrition and either comfort or fun into a small, light package. The menus and accompaniments are intended not just to nourish but also to remind the soldier of home. Some include branded comfort foods — Australians get a dark-brown spreadable yeast-paste treat called Vegemite, for example — while others get national staples like liverwurst (Germany), or lamb curry (Britain's current culinary obsession).
Some of the contents are practical. Italians get three disposable toothbrushes per day of combat. Americans get pound cake, which military folklore says reduces the need for toilet breaks.
Other items are just, well, quirky. For nine years now, I've been travelling mostly with the Americans when I'm in Iraq and Afghanistan, and one item they're known for is the Assorted Charms that are one of several hard candies randomly distributed with M.R.E.'s.
Never eat the Charms, the troops say; they're unlucky. It's just a superstition, of course — I've never met a soldier who could tell me why they were unlucky — but the G.I.'s take it seriously. I sometimes think that if I ever got separated from my unit in the field, I'd just follow a trail of discarded unopened Assorted Charms to find them again.
Among the soldiers I have known, the peanut M&Ms are the hands down favorite item (it used to be Skittles), and they're currency. Want to swap out your shift pulling guard duty? A packet might well buy you the favor.
The soldiers like to mix and match some of the ingredients to create their own drinks and meals. Army Rangers have been taught at least as far back as the Vietnam War how to make Ranger Pudding — roughly, it's water mixed with cocoa powder, instant coffee, melted chocolate, Tootsie Roll, sugar and coffee creamer.
"Combat espresso," on the other hand, is brutal. The creamer, instant coffee and sugar are poured directly into one's mouth and then washed down with water. In 2004, I survived on those things for two weeks with a Marine company during the battle for Falluja.
In combat, eating is often the only good thing about a day. When a soldier or marine sits down to warm up his M.R.E., he's not being shot at, he's not losing friends. It's almost a ritual, and the very act of opening one of these packages suggests safety, however brief it may be.
To a lot of the American troops I've met, mealtimes are the only thing here to look forward to.
Here's how various other countries that are in Afghanistan give their own troops something to look forward to — other, perhaps, than going home.

Battalion Colours

Moderator




Posts

: 846


Join date

: 2009-11-26

http://tcbh.oxfordjournals.org/content/early/2011/09/15/tcbh.hwr013.abstract
Beyond the Ration: Sharing and Scrounging on the Western Front
Rachel Duffet
Abstract
The assumption to date has been that military provisioning was an unmitigated success for the British Army of the First World War; a judgement not reflected in the accounts of many of the rank and file soldiers on the Western Front. The men were often disappointed not merely by shortfalls, but also by rations that, though high in calories, failed to tempt the palate or reflect the civilian meals that had shaped their eating preferences. Whether driven by hunger or boredom, supplementing the official diet was a regular occupation for the men, through parcels from home, visits to the canteens or less legitimate means. Scrounging opportunities ranged from apples scrumped in a French orchard and an opportunistic raid on a chicken coop, to the pilfering of army stores. This article demonstrates the extent of the role played by this extra food in the men's diet and explores the significance of the way in which it was obtained and consumed. Whatever the source of the food, its even-handed division was a subject repeatedly referenced in the soldiers' diaries, letters, and memoirs. The sharing of food between pals in a just and proper fashion re-created, to some small degree, a microcosm of an ordered, civilized world in the ranks.
© The Author [2011]. Published by Oxford University Press. All rights reserved. For Permissions, please email:
journals.permissions@oup.com

Battalion Colours

Moderator




Posts

: 846


Join date

: 2009-11-26

The following website is an excellent source for the history of U.S. Army Rations:
http://www.qmfound.com/army_rations_historical_background.htm#Special%20Rations%20in%20World%20War%20I
Army Operational Rations - Historical Background
Gives an excellent historical overview of Operational Ration development from the Revolutionary War to the end of World War II. Focuses on World War II development and fielding of the C, D, K, 5 in 1 and 10 in 1 rations.
From Chapter 1 of "Special Rations for the Armed Forces, 1946-53", By Franz A. Koehler, QMC Historical Studies, Series II, No. 6, Historical Branch, Office of the Quartermaster General, Washington D.C. 1958
Table of Contents
Early Army Rations
Special Rations in World War I
Reserve Rations
Trench Rations
Emergency Rations
Ration Development 1918-36
Ration Development 1936-41
Field Ration D
Field Ration C
Operational Rations in World War II
The D Ration
Ration, Type C
The K Ration
The Mountain Ration
Jungle Ration
The 5-in-1 Ration
The 10-in-1 Ration
Assault Lunch
Type X Ration
Aircrew Ration
AAF Combat Lunch
Sandwich Packs
Parachute Emergency Rations
Airborne Lifeboat Ration
Liferaft Ration
Kitchen Spice Pack
Hospital Supplement
Aid-Station Beverage Pack
Red Cross Food Pack
Summary
End Notes
Here's the chapter on 'Special Rations in World War i':
Special Rations in World War I
Reserve Ration
Three special-purpose rations came into general use in World War I-the reserve ration, the trench ration, and the emergency ration.16 The first of these was an individual packaged ration which the soldier carried on his person for utilization when regular food was unavailable. The reserve ration, which sought to provide a complete food allowance for one man for one day, included a one-pound can of meat (usually corned beef), two 8-ounce tins of hard bread, 2.4 ounces of sugar, 1.12 ounces of roasted and ground coffee, and 0.16 ounce of salt. It weighed about 2 ¾ pounds and contained about 3300 calories. The food was considered ample and satisfying but the packaging, in cylindrical cans of one-pound capacity, was far from practical or economical.17
Trench Ration
As its name implies, the trench ration was designed to provide subsistence under conditions of trench warfare. The unit consisted of sufficient canned meats and canned hard bread to provide 25 men with food for one day. The canned meats were roast beef, corned beef, salmon, and sardines. Other components included salt, sugar, soluble coffee, solidified alcohol, and cigarettes. The unit was packed in large, galvanized containers designed to protect contents from poison gas.15 Although the trench ration was to be prepared as a hot meal, it could be utilized without preparation or cooking. The ration had the advantage of convenience, afforded excellent protection against poison gas, and provided a wider diet than the reserve ration. Its disadvantages were an excessive use of iron and tinplate, which made it heavy and difficult to handle; the unsuitability of the units for a single meal; the invitation to spoilage and contamination offered by opened containers; and its nutritional inadequacy.
Emergency Ration
The emergency ration, popularly known as the "Armour" or "iron" ration, was a packaged unit of concentrated food carried by the soldier to sustain life during emergencies when no other source of subsistence was available. It consisted of three 3-ounce cakes of a mixture of beef powder and cooked wheat and three one-ounce chocolate bars. These hardy items were contained in an oval-shaped, lacquered can which fitted the soldier's pocket. At the time of the Armistice, about two million rations had been shipped to France.19 Manufacture was discontinued after the war, and in 1922 the item was officially eliminated from the list of Army rations. Some of the emergency rations procured in World War I were subsequently used by aircraft pilots on Mexican border patrols, a usage which suggests that the item has some claim to parentage of modern Air Force flight rations.