Alvin Edward Neil was born on the 9th of May 1920 in Monmouth, Illinois, USA. He was born the third of 14 children to John Neville Neil and Sarah Sizemeore. Alvin's father, John, was born in Haliburton County, Ontario. His mother, Sarah, was born in Missouri, USA. John and Sarah were married in Montana where their first two children, Eurwin and William were born. The family then moved to Illinois, where Alvin was born. The next child, Violet was either born in Illinois or Stahl, Missouri but she died in 1922 before the next children Aldin and Virgil were born. Both of these boys were born in Stahl. The family then moved to Limerick Township, Hastings County, Ontario where 8 more children were born – Clifford, Mildred, Jean, Marjorie, Donald, Arnold, Paul and Margaret. The last four children died young; however at the time of this write up, June 2012, Marjorie is the sole surviving sibling.
Alvin enlisted in the Canadian Active Service Force (C.A.S.F.) on September 11, 1939, the day following Canada's Official declaration of war against Germany. He joined the Hastings and Prince Edward Regiment at Madoc, Hastings County, Ontario, Canada, and was assigned the Regimental number C/4569.
When Alvin joined the C.A.S.F., he was 19 years old and stood 5 foot 6 ¾ inches tall. He had a dark complexion with brown hair and brown eyes.
After basic training in Canada he sailed for England from Halifax, Nova Scotia, on the 19 December 1939. He arrived in Glasgow, Scotland 29th January 1940 and then continued onto Aldershot, England.
Alvin went with the Hastings and Price Edward Regiment when it embarked for France on 13 June 1940, as part of the Second British Expeditionary Force. He landed at the French port of Brest the following day, 14 June 1940. From Brest, the Regiment boarded a train and proceeded inland where it was stopped at a point beyond Laval, before being ordered back to the United Kingdom. Alvin, along with the Regiment embarked from Brest on 16 June 1940, disembarking at Plymouth England on 17 June 1940. It was always assumed that the Hastings and Prince Edward Regiment was assigned to Brest to assist in Operation Ariel, the evacuation of members of the British Expeditionary Force and Allied Service personnel after the collapse of France, however, according to "The Regiment" by author Farley Mowat, this was not the case but instead they were to engage the enemy at Sable, about 200 miles inland.
During his career, Alvin received the following appointments and promotions: appointed Acting Lance Corporal with pay effective 29 September 1940; confirmed Lance Corporal 04 October 1940; appointed Acting Corporal with pay, effective 05 July 1941; confirmed to rank of Corporal 25 July 1941; appointed Acting Staff Sergeant effective 01 January 1943; confirmed rank of Sergeant 25 November 1943.
While Alvin was in England, he attended an Assault Course A.37 Sec W/T School, Dorking from the 18th to the 31st of January 1942. On 05 March 1942, Alvin was transferred to 1 Non Effective Transit Depot (NETD) for return to Canada. On the 15th of April 1942, with him back in Canada, Alvin was transferred to Canadian Army Basic Training Center number 41, located at Huntingdon Quebec, as is seen in the following entry from his service records " CA (B) TC 41 Huntingdon, Quebec, Canada" Effective 31 July, 1942, Alvin was listed as "on Command and Attached for ALL PURPOSES to No 3 D.D. Ottawa Ontario" This is the start of Alvin's career in what would become the First Special Service Force. Although officially his unit was listed as the 2nd Canadian Parachute Battalion, his unit in reality was the 6th Company, 2nd Regiment, First Special Service Force.
Alvin completed his parachute course and earned the qualification as a "parachutist" on the 18th of August 1942. Much of his movements are unclear, however, his being a member of the 2nd Canadian Parachute battalion and subsequent FSSF is very clear. His records show him as 'moved to Norfolk Virginia on 15 April 1943, then shows him 'Embarking San Francisco'
Alvin left San Francisco with the First Special Service Force, bound for AMCHITKA in the Aleutian Islands. He arrived in Amchitka on the 24th of July 1943. During the stay on the Island, his unit saw no action and embarked on the return trip to San Francisco on 22 August 1943, arriving in town on the 1st of September 1943.
Upon Alvin's return to San Francisco, he was granted 12 days leave, from the 3rd to the 15th of September. It is assumed, the photo of Alvin with the Neil family, was taken at that time.
The Neil family.
Left to right, back row; Alvin, Florence (Eurwin's wife), Virgil, John (father), Clifford, Alden, Jean and Eurwin.
Front row; Marjorie, Mildred, Sarah (mother) and Ruby Edwards (my mother)
After returning from leave, Alvin then embarked from Newport News (Virginia) on 27 October 1943, his final destination, the Italian Theater. His movements are recorded as follows: Disembarked Casablanca 05 November 1943, Embarked Oran Algeria 13 November 1943, and Disembarked Naples Italy 18 November 1943.
On the night of 03 December 1943, The First Special Service Force was engaged at Mount La Defensa , Italy (the battle was made famous in the 1968 movie The Devil's Brigade). Alvin was forward of the units position, checking on the security of the area. He was wounded at 0030 hours, on his return to his lines, after falling into a slit trench. His identity was mistaken due to poor visibility and the high probability of an enemy counter attack coming at any moment. His wound was inflicted by a .30 caliber bullet through the abdomen.
He was evacuated in the afternoon of the 4th December 1943, to the Regimental Aid Station. From there he was transferred to the 95th Evacuation Hospital in Naples Italy. He had surgery on the 6th December at 0100 hours, and further surgery was performed six days later, on the 12th December 1943. On the 1st of January 1944 he was transferred from Naples Italy, to Oran Algeria. Alvin was admitted to the 46th General Hospital on 4 January 1944. He was listed as seriously ill on the 6th of January, and succumbed to his wounds at 0704, 18 January 1944.
The "Abstract of Clinical Record" dated 19 January 1944, the day after Alvin died, there is he following narrative; S/Sgt Alvin E. Neil, C-4569, gave a history of having been shot in the right flank on 4 December 1943, when he fell into a slit trench of one of his outposts at about 0030 hours and was mistaken for a German. The bullet entered his back on the right side shattering the posterior iliac crest and penetrating the Abdomen. From there the narrative goes into detail of his surgeries and complications. It is clear that he received the utmost care and everything was done to preserve his life.
A full autopsy was performed on Alvin, at 1030 hours at the 46th General Hospital. As a result of the autopsy, the coroner determined Alvin's official cause of death to be septicaemia, with many contributing factors. The autopsy documentation is 5 pages in length, and was performed by Major Vinton D. Sneeden, Chief of the Laboratory Service, 46th General Hospital, Oran Algeria.
Alvin sent his mother a letter dated 5th January 1944, in which he described his movements after being wounded. At the time of writing he relayed to her that although the journey was rough, he was getting along fairly well. The current disposition of this letter is unknown; however Sarah makes reference to his letter home in her request for further details into Alvin's death.
Alvin was buried in Grave 20, Row D plot E of Le Petit Lac Cemetery in Oran Algeria. Of note, he is the only First Special Service Force member resting in the cemetery.
Le Petit Lac Cemetery is on the south-east of Oran, over two miles from the centre, and the name is derived from a lake which was once in the area. The cemetery was originally a large war cemetery, formed early in 1945 by the Americans, for the burial of all Allied servicemen. After 1945 all but the Commonwealth burials (`Commonwealth' including foreigners who were serving in the Commonwealth forces) were removed, but in 1950 the French re-opened the cemetery as a French National Cemetery. The Commonwealth Plot is still in its original site about 200 yards from the entrance, and is hedged off from the main cemetery. It is a small cemetery, but is remarkable for the numbers of different nationalities buried in it. It contains nearly 200 British burials, 15 Canadian, five Australian and small numbers of New Zealand, South African, Indian, West African, Belgian, Netherlands, Norwegian, Polish and Yugoslav.
Alvin is commemorated on the Bancroft Cenotaph, located in the town of Bancroft, Hastings Country, Ontario. The cenotaph was constructed in 1956 in memory of the area soldiers who never returned from duty during WWI (1914 - 1918), WWII (1939 - 1945) and the Korean War (1950 – 1953.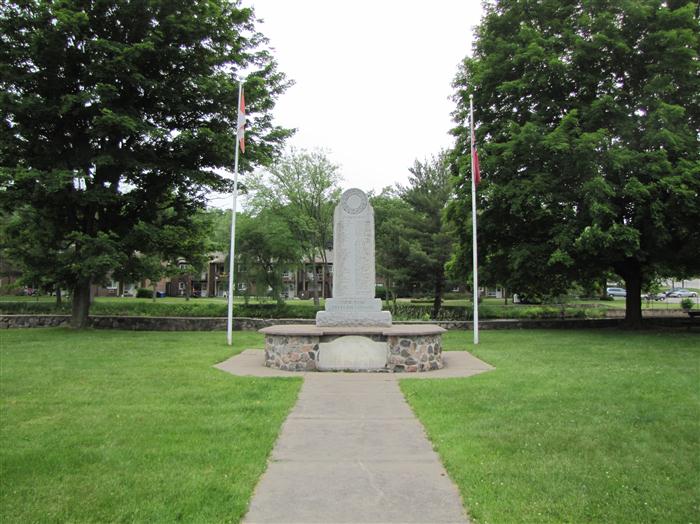 This is a photo of the Cenotaph in Bancroft Ontario.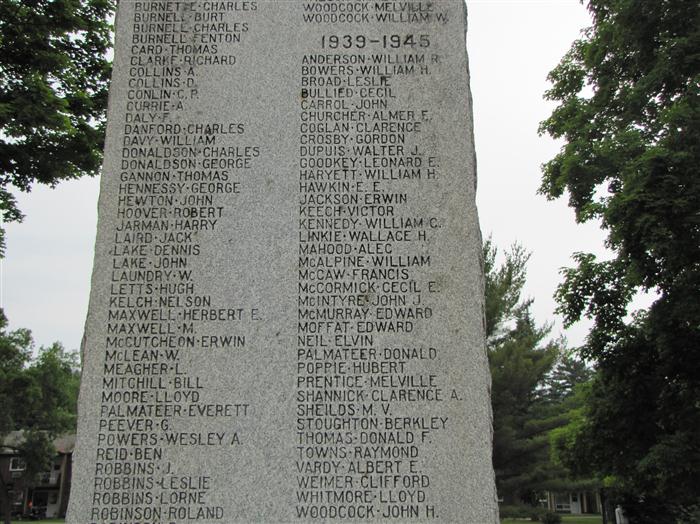 Alvin's name appears as Elvin Neil on this Cenotaph in Bancroft Onario. His name is the 24th on the list. My uncles name appears on the same memorial, 3rd from the bottom.
For his service during World War Two, Alvin was awarded the 1939-45 Star, Italy Star, Defense Medal, War Medal, and the Canadian Volunteer Service Medal with Overseas Clasp, These were dispatched to his mother, Sarah in St Ola Ontario, on the 17th of November 1949. Sarah was also sent a Memorial Cross with Alvin's name inscribed and a Memorial Bar. The memorial bar was intended to be sewn onto the medal ribbons when mounted.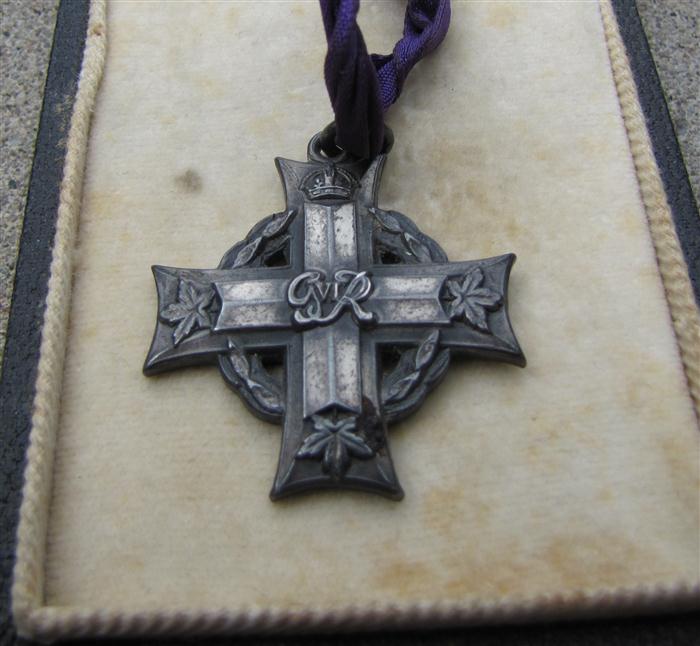 The Memorial Cross sent to Alvin's mother Sarah in St Ola Ontario.
Alvin's medals as they are now, some 60 plus years after being issued.