In regard to the CANLOAN BDs at the CWM, Ed is probably right when he says the "surviving fully badged BD are from those units, either in Canada or overseas which were in existance in 1945 and reflect the badging practices at that time."
I know of several museums which have extensive uniform and helmet collections tucked away in their storage facilities. Who knows what survives in these collections.
I always ask myself two questions, Is it possible and Is it probable?
Is it possible a Dieppe BD exists?, yes. Is it probable a Dieppe BD exists?, no. There is one more possibility which we need to consider. A civilian in Dieppe may have picked up/acquired a BD after the raid and kept it. Such a BD could be in a French collection which we don't know about. I know of several helmets from the raid which are in private collections.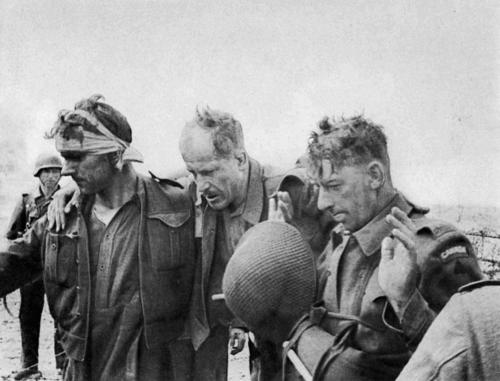 Wounded Canadians captured during the Dieppe Raid (Operation Jubilee), August 1942.