+3
Wgrenadier
mk1rceme
thegate
7 posters
Machete Legitimus Collins & Co No 1250, 1943

thegate

Member






Posts

: 317


Join date

: 2013-04-14


Age

: 56


Location

: Drummondville , Québec , Canada

fermé
Last edited by thegate on Fri Oct 10, 2014 5:19 pm; edited 1 time in total

mk1rceme

Administrator






Posts

: 2215


Join date

: 2009-11-22


Age

: 52


Location

: Alberta, Canada


_________________
Dale
Admin-CMCF

thegate

Member






Posts

: 317


Join date

: 2013-04-14


Age

: 56


Location

: Drummondville , Québec , Canada

Thanks Dale

Wgrenadier

Moderator






Posts

: 289


Join date

: 2013-02-16

I love the Canadian Machete! It's what the offspring of a mating between an American and an English machete would look like! lol

John S

In Memoriam






Posts

: 11


Join date

: 2014-08-10

Please excuse my ignorance, but as I see no C broad arrow displayed on this machete, what makes it a Canadian issued item?
Cheers,
John S


thegate

Member






Posts

: 317


Join date

: 2013-04-14


Age

: 56


Location

: Drummondville , Québec , Canada

Legitimus Collins & Co. Made In USA 1250 machete. These machetes were made under contract for the Canadian military & were not used by American forces. This piece is about 19 1/2" long with the blade measuring about 14 1/2". this machete is a full tang construction with smooth black bakelite grips. I believe the Canadian Army classified this as a "Bush Knife". The sheath made in Canada Ottawa and Montréal.

Tankermike

Member






Posts

: 505


Join date

: 2010-02-11


Age

: 57


Location

: Edmonton

That's a nice piece, this link is to a US Navy Legitimus Collins & Co machete, although not Canadian a really cool piece in my opinion. A cross between a machete and a sword. Must have been for Navy shore party or boarding party.
I bid, but no winner.
http://www.ebay.ca/itm/261587178616?ru=http%3A%2F%2Fwww.ebay.ca%2Fsch%2Fi.html%3F_from%3DR40%26_sacat%3D0%26_nkw%3D261587178616%26_rdc%3D1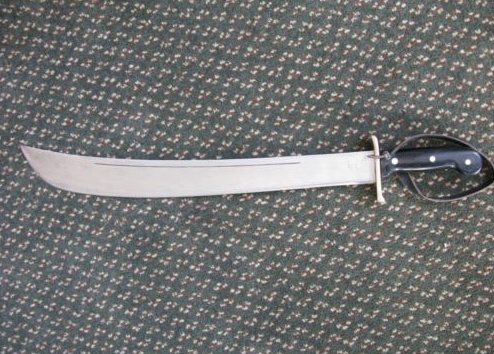 Infanteer

Member






Posts

: 820


Join date

: 2009-12-11

That's a great looking machete Mike. Looks like a cutlass.

edstorey

Member






Posts

: 953


Join date

: 2012-06-03

Here are examples of the Canadian and British WWII Machetes.  My Legitimus Collins is not nearly as pristine.

thegate

Member






Posts

: 317


Join date

: 2013-04-14


Age

: 56


Location

: Drummondville , Québec , Canada

Nice exemple ED, i look for the sheath, if you have sign me.