Hi
My small results from the Oromocto Show on Sat.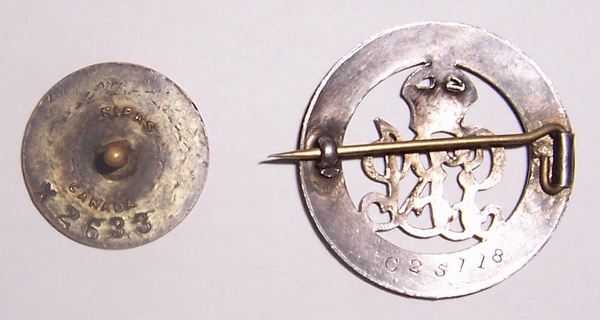 Along with a usual Class A badge I picked up an earlier "Canadian Patriotic Fund" marked one as well as a Class B War Service Badge (WSB) for Canadians from WW1.
The Class B is also sometimes called the "Silver Wound Badge" (after what Brits call it) but more properly in Canada it is the Class B WSB as Brits didn't have any other versions.
I have a Class C example but will keep looking for a Class AA to the Navy to complete the WW1 versions.
More here: http://www.vac-acc.gc.ca/remembers/sub.cfm?source=collections/cmdp/mainmenu/group08
Collecting WSBs is a nice little side-line collecting theme of mine. Other than desiring the ones that were issued to the men and women whose medals I have, I am always looking for the different versions un-attributed to medal holders. No rush to complete the collection of all versions and just buy when the price is right. The WW2 General Service/Service General ones have the most variety in regard to language, construction, and fasteners.
Maybe I'll do up a reference thread on WSBs in the Fall.
regards
Darrell